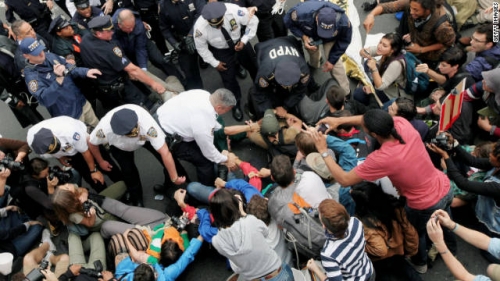 In what appears to have been an unprecedented coordinated clampdown on peaceful protest, the NYPD today trapped and arrested hundreds.
Today, New York witnessed an unprecedented clampdown on the constitutional right to peaceful civic protest: in what appears to have been a coordinated move by authorities, the NYPD tricked protesters into walking onto Brooklyn Bridge so it could execute a meticulously planned mass arrest of hundreds of entirely peaceful protesters. Among the 400+ detainees were at least two young children, a photographer and a freelance journalist.
UPDATE: Associated Press just revised the total tally of the NYPD's detention spree up to 700.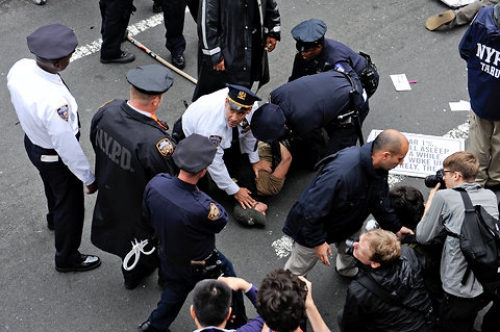 The demonstrators were taking part in a positive-spirited march organized by the budding Occupy Wall Street movement, which seeks to draw attention to the crimes and injustices perpetrated by the U.S. financial sector. The
Wall Street Journal
(that lovely piece of Murdoch-owned corporate propaganda) was one of the first to
report
on today's mass arrests:
NEW YORK—Approximately 400 protesters associated with the "Occupy Wall Street" movement were arrested Saturday afternoon for blocking traffic on New York's Brooklyn Bridge.

Arrests began at 4:45 p.m. and continued for hours. Brooklyn-bound traffic resumed at about 8 p.m. after being halted for roughly four hours, snarling traffic throughout lower Manhattan, according to Paul Browne, deputy commissioner of the New York City Police Department.

The march began in Lower Manhattan, and as protesters approached the entrance to the Brooklyn Bridge, some people entered the pedestrian walkway, while others entered the Brooklyn-bound roadway, walking with traffic, according to several witnesses.

Police said people were advised to stay on the pedestrian walkway and not go into the roadway. Some protesters "locked arms and proceeded on the roadway," said Mr. Browne, which blocked Brooklyn-bound traffic on the bridge.

Witnesses said police entered the bridge from the Brooklyn side and began arresting people on the roadway. Protesters on the pedestrian walkway were free to go.

"People were marching in the street and there were cops there letting people march on the road," said Jessica Rechtschaffer, 41, a protester who lives in Manhattan. "The police changed their mind and corralled everybody and arrested them."

Ms. Rechtschaffer added that protestors were not "violent or destructive."

"It was all very orderly, but people were out in the streets," she said. "Had they just let us cross, there wouldn't be all this problem."
On its City Room blog, the
New York Times
reported
that:
… many protesters said that they thought the police had tricked and trapped them, allowing them onto the bridge and even escorting them across, only to surround them in orange netting after hundreds of them had entered.

"The cops watched and did nothing, indeed, seemed to guide us on to the roadway," said Jesse A. Myerson, a media coordinator for Occupy Wall Street who was in the march but was not arrested.
After allowing the protesters to walk about a third of the way to Brooklyn, the police then cut the marchers off and surrounded them with orange nets on both sides, trapping hundreds of people, said Mr. Dunn. As protesters at times chanted "white shirts, white shirts," officers began making arrests, at one point plunging briefly into the crowd to grab a man.

Charges against those arrested were not immediately available. A freelance reporter for The Times, Natasha Lennard, was among those arrested.
Earlier in the afternoon, as many as 10 Department of Correction buses, big enough to hold 20 prisoners apiece, had been dispatched from Rikers Island in what one law enforcement official said was "a planned move on the protesters."

Etan Ben-Ami, 56, a psychotherapist from Brooklyn who was up on the walkway, said that the police seemed to make a conscious decision to allow the protesters to claim the road. "They weren't pushed back," he said. "It seemed that they moved at the same time."

Mr. Ben-Ami said he left the walkway and joined the crowd on the road. "It seemed completely permitted," he said. "There wasn't a single policeman saying 'don't do this'."

He added: "We thought they were escorting us because they wanted us to be safe."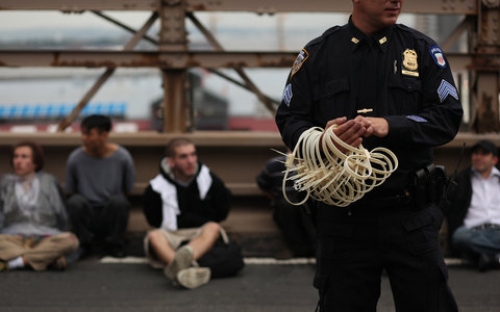 Posted:
01 Oct 2011 05:44 PM PDT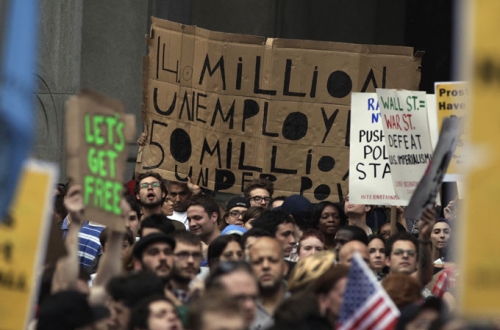 As thousands occupy Brooklyn Bridge in New York, major unions throw their weight behind the protests and solidarity occupations take off across the nation.
Thousands of protesters have occupied Brooklyn Bridge en route to Wall Street today, in what is undoubtedly the biggest day of protests in the Big Apple since the occupation started exactly two weeks ago. Early
reports
from the movement's organization claim that the NYPD has blocked the bridge's exits, kettled the protesters, and arrested at least 50 people so far (
UPDATE: 400+ arrestsaccording to Reuters!
).
Today's march and mass arrests come exactly a week after a bout of police violence saw at least 80 people arrested and numerous injured. Yesterday, some 1,000 demonstrators marched on the NYPD headquarters to complain about the entirely unwarranted police repression of last week. In the meantime, as the
images of police brutality
went viral (our piece was shared by over 10,000 people on Facebook), the movement appears to have grown wings, inspiring solidarity occupations across the nation, from
Boston
to
LA
, and beyond.
While
CNN
is busy covering the Arab Spring,
Al Jazeera
covers the American Fall. Last week, the Qatar-based broadcaster
observed
that "The protests on Wall Street are growing larger, despite police using pepper spray and making arrests." Today, it
reported
that:
Members of the "Occupy Wall Street" movement have vowed to stay through winter in a park near New York's iconic financial district, where they are protesting issues including the 2008 bank bailouts, foreclosures and high unemployment in the United States.

Protests inspired by New York's have emerged in other US cities in recent days, including Chicago, San Francisco and Los Angeles.

A group in Boston has taken on the tactics of New York's protesters and on Friday night set itself up in the city's Dewey Square. Activists remained camped out at what they called "the heart of the financial district" on Saturday.

"We are establishing our subsection of a national dialogue on finance reform and governance reform," Nadeem Mazen, an organiser with Occupy Boston, told Al Jazeera.

Mazen said that the Boston protest quickly drew a thousand people. "It shows that we're experienced and that we've all been independently thinking about what change we want to see. .. I think we're all very hungry for change."
The
Washington Post
observes
that the movement is largely being ignored by the mainstream media, even on the left:
And, yet, the occupation is spreading. There are now occupations and solidarity demonstrations in dozens of cities around the country, including Los Angeles, Chicago and Boston. (D.C.'s

version

is scheduled for Oct. 6.) The Air Line Pilots Association has joined the protests, the 34,000-strong Transit Workers Union Local 100

voted unanimously

to support the protests, and several other major progressive groups, including MoveOn.org and the SEIU, are finally throwing their weight behind the movement.
Yet the protesters must be doing something right. As Jim Newell
writes
for
Gawker
:
The Occupy Wall Street protesters — who the

New York Times

and other such venues had

told

me were too vague, too in need of glitzy PowerPoint presentations with concrete goals, too poorly dressed, too busy playing drums, too hypocritical because they used "computers" and other modern products, too middle-class, and in general too

gross

to sustain any interest for more than a few days, therefore making it not worth doing — have persevered long enough to convince veteran reinforcements to join them next week. Interesting!

A hitherto dormant establishment of New York labor and community groups signed on to the protest today and announced they'd join the dirty fucking spoiled computer-wielding scumbucket hippie monsters in a solidarity march next Wednesday.
Business Insider
made a similar observation,
writing
that:
Occupy Wall Street has been picking up some decent support from unions in the past few days.

Yesterday

we reported that the

Teamsters Union

declared their support for protestors, and we also found out that the United Pilots Union had members at the

protest demonstrating in uniform

.

Today we learned the Industrial Workers of the World put a message of support on their

website

as well.

UPDATE:

Verizon

union workers have joined the protestors in NYC.
All in all, with labor unions joining their side, a nationwide outburst of solidarity protests, and thousands of New Yorkers flocking into Lower Manhattan to join the largest march in the 2-week lifespan of the movement, one thing is now abundantly clear: these protests are not going to go away anytime soon. In fact, they are only growing stronger, bigger, more diverse and more defiant. It took some time, but it looks like the sleeping giant is finally starting to wake up: