Spain

People take a part in a demostration as they march towards Puerta del Sol square in solidarity action for the
worldwide protest dubbed "Occupy the City" in Madrid on Saturday, Oct. 15, 2011. The organizers of the
Occupy Wall Street announced on their website that protesters will demonstrate in concert over 951 cities
in 82 countries. (Arturo Rodriguez)

Germany

Protestors march through the streets of Berlin during a demonstration to support the ' Occupy Wall Street'
-movement Saturday Oct. 15, 2011. Protestors gathered at many major European cities Saturday to join in
demonstrations against corruption, capitalism and austerity measures. (Maja Hitij)
Chile

Protesters march during a "March of the outraged" in Santiago, Chile, Saturday Oct. 15, 2011. The
gathering in the capital of Santiago was one of dozens of global protests launched Saturday in support
of the Occupy Wall Street movement. (Aliosha Marquez)
Portugal

Thousands applaud and cheer outside the Portuguese parliament, in Lisbon during a popular assembly
Saturday, Oct. 15 2011. After a protest march, demonstrators held an assembly where anyone could have
the microphone and express their ideas and proposals to the crowd. Demonstrators marched Saturday
in European cities as protests against capitalism and austerity measures went global. (Armando Franca)
Puerto Rico

A demonstrator speaks as he holds a Puerto Rican flag during the Occupy Puerto Rico protest in San
Juan, Puerto Rico, Saturday, Oct. 15, 2011. About 200 people in Puerto Rico have gathered in a financial
district dubbed "The Golden Mile" to protest capitalism and government cuts as part of worldwide
demonstrations. (Ricardo Arduengo)
New York City

Demonstrators affiliated with the Occupy Wall Street rally in New York's Times Square,
Saturday, Oct. 15, 2011. (Mary Altaffer)

Times Square, October 15, 2011. (Cryptome)


Times Square, October 15, 2011. (Cryptome)


Times Square, October 15, 2011. (Cryptome)


Times Square, October 15, 2011. (Cryptome)


Times Square, October 15, 2011. (Cryptome)


Times Square, October 15, 2011. (Cryptome)


Times Square, October 15, 2011. (Cryptome)

Occupy Wall Street protestors prepare for a day of demonstrations throughout Manhattan by dressing in
clean donated clothes in Zuccotti Park, Saturday, Oct. 15, 2011, in New York. As many as 1,000
protesters were marching Saturday morning to a Chase bank branch in the financial district, banging
drums, blowing horns and carrying signs decrying corporate greed. Other demonstrations are planned
around the city all day Saturday. (John Minchillo)

Occupy Wall Street protestors prepare for a day of demonstrations throughout Manhattan by having their
hair cut in Zuccotti Park, Saturday, Oct. 15, 2011, in New York. As many as 1,000 protesters were
marching Saturday morning to a Chase bank branch in the financial district, banging drums, blowing
horns and carrying signs decrying corporate greed. Other demonstrations are planned around the city
all day Saturday. (John Minchillo)
Spain

A protestors tries to open the door as security members and employers block the main entrance of a
Zara clothing store during a demonstration in Barcelona Saturday Oct. 15, 2011. Demonstrators
burst into a Zara store during a protest against corporate power and the banking system. (Emilio Morenatti)
Portugal

A protestor holds a placard mocking Portuguese Prime Minister Pedro Passos Coelho during an
anti-capitalist demonstration in downtown Porto, Portugal Saturday, Oct. 15 2011. Demonstrators
marched Saturday in European cities as protests against capitalism and austerity measures went global.
Placard at right reads 'I do not pay!'.(Paulo Duarte)
Little Rock, AR

Protesters sympathetic to the Occupy Wall Street movement carry a flag-themed banner at the state
Capitol in Little Rock, Ark., Saturday, Oct. 15, 2011. (Danny Johnston)
Canada

Demonstrators gather in the Grand Parade in Halifax, Nova Scotia, Canada on Saturday, Oct. 15, 2011.
The demonstration is one of many being held across the country recently in support of the ongoing
Occupy Wall Street demonstration in New York. (Andrew Vaughan)
Italy

Protesters hurl objects at police in Rome, Saturday, Oct. 15, 2011. Protesters in Rome smashed shop
windows and torched cars as violence broke out during a demonstration in the Italian capital, part of
worldwide protests against corporate greed and austerity measures. The "Occupy Wall Street" protests,
that began in Canada and spread to cities across the U.S., moved Saturday to Asia and Europe, linking
up with anti-austerity demonstrations that have raged across the debt-ridden continent for months.
Belgium

Two protesters spray graffiti at a bank, during a march in Brussels, Saturday, Oct. 15, 2011. The protest
in the Belgian capital was part of Occupy Wall Street demonstrations against capitalism and austerity
measures that went global Saturday,leading to dozens of marches and protests worldwide. (Yves Logghe)
France

A protestor holds a placard during an anti-capitalist demonstration, in Paris, Saturday, Oct. 15, 2011.
Protesters in cities across Europe took part in rallies inspired by the Occupy Wall Street demonstrations
in the United States, expressing their frustration at social inequality and corporate greed.
The placard reads: "Financial market dictatorship, enough"(Thibault Camus)
Romania

A man wears an anti-establishment mask during the "Occupy Bucharest" protest in Bucharest, Romania,
Saturday, Oct. 15, 2011. The protest, meant as a part of worldwide protests "Occupy Wall Street"
against corporate greed and austerity measures, was joined by few people who at times fought among
themselves, trying to clarify their vague requests, aimed at linking up with anti-austerity demonstrations
that have raged across the debt-ridden continent for months.(Vadim Ghirda)
Great Britain

Julian Assange, center, takes part in the Occupy London Stock Exchange demonstration in London
Saturday Oct, 15, 2011. Protesters in cities across Europe take part in rallies inspired by the Occupy
Wall Street demonstrations in the United States, expressing their frustration at social inequality and corporate
greed. (Elizabeth Dalziel)
Canada
l


Frederic Carmel sits next to his tent in Montreal's financial district on Saturday, Oct. 15, 2011.
The demonstration is one of many being held across the country recently in support of the ongoing
Occupy Wall Street demonstration in New York. (Graham Hughes)

Protestors gather in Toronto's financial district for the Occupy Bay Street demonstration on Saturday,
Oct. 15, 2011 in Toronto. The demonstration is one of many being held across the country recently in
support of the ongoing Occupy Wall Street demonstration in New York. (Chris Young)
Columbia, SC

Diane Kuhn, of West Columbia, S.C. holds a protest sign calling for the prosecution of financial criminals
during the Occupy Columbia demonstration at the South Carolina Statehouse in Columbia, S.C.,
Saturday, Oct. 15, 2011. (Brett Flashnick)
Washington, DC
Demonstrators hold banners during the Jobs at Justice rally at Washington Monument in Washington on Saturday, Oct. 15, 2011. (Jose Luis Magana)
Australia

Protesters gather in front of the Reserve Bank of Australia in central Sydney, Australia, Saturday, Oct. 15,
2011. The organizer of the Occupy Wall Street announced on their website that protesters will demonstrate
in concert over 951 cities in 82 countries. (Rick Rycroft)
Bosnia

Bosnian people carrying banners with the text "For a class war against dictatorship of capitalism", top, and
"What did bank do? The bank bankrupted!", bottom banner, during a protest march, in the Bosnian
capital of Sarajevo, Saturday, Oct. 15, 2011. Hundreds marched down the main streets of Bosnian cities carrying banners that call for the end of alleged worldwide "Capitalistic Dictatorship". (Amel Emric)
Harrisburg, PA

Protesters gather at the Pennsylvania Capitol Saturday, Oct 15, 2011 in Harrisburg, Pa. The demonstration
is one of many being held across the country recently in support of the ongoing Occupy Wall Street
demonstration in New York. (Bradley C Bower)
Japan

Participants march through Tokyo's Kasumigaseki administrative district during "Occupy Tokyo" protest
Saturday, Oct. 15, 2011. The demonstration was held in support of the Occupy Wall Street protest against
corporate power. (Itsuo Inouye)
Netherlands

Children watch as protestors prepare placards outside the NYSE Euronext stock exchange in Amsterdam,
Netherlands, Saturday Oct. 15, 2011, during a demonstration in support of the Occupy Wall Street movement.
Demonstrators in hundreds of cities all over the world protested against corporate power and the banking
system. (Peter Dejong)
Philippines

Protesters shout slogans as they march towards the U.S. embassy in solidarity action for the U.S. protest
dubbed "Occupy Wall Street" Saturday, Oct. 15, 2011 in Manila, Philippines. (Pat Roque)
South Korea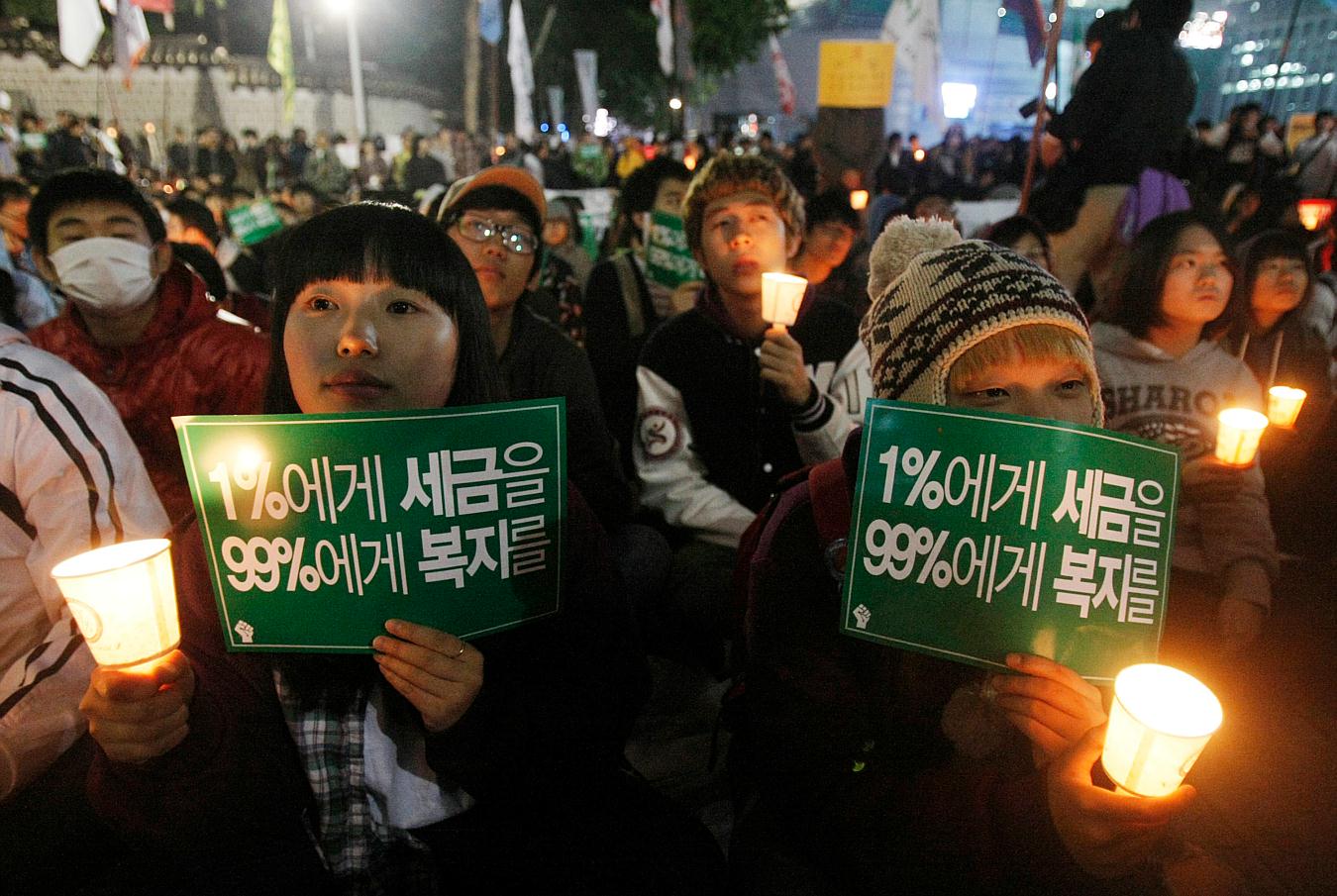 South Korean protesters stage an "Occupy Seoul" rally in Seoul, South Korea, Saturday, Oct. 15, 2011.
The demonstration was held in support of the "Occupy Wall Street" protest against corporate power.
The Korean letters read: "Tax the Rich 1%, Welfare for the 99%." (Ahn Young-joon)
Sweden

Protesters take part in the "Occupy central" protest in Stockholm, Saturday, Oct. 15, 2011, as protesters
worldwide demonstrated against bankers and politicians they accuse of ruining global economies through
greed. (Maja Suslin)
Switzerland

People demonstrate on the Place des Nations in front of the European headquarters of the United Nations
in Geneva, Switzerland, Saturday Oct. 15, 2011. Protestors gathered at many major European cities
Saturday to join in demonstrations against corporate greed and inequality. (Martial Trezzini)

Young people demonstrate in the financial district of Zurich, Switzerland, Saturday Oct. 15, 2011.
The organizer of the Occupy Wall Street movement announced on their website that protesters
will demonstrate in over 951 cities in 82 countries. (Ennio Leanza)
Taiwan

Activists hold magazines titled "Socialist" during a protest named "Occupy Taipei" organized by Taiwanese
net friends in front of the Taipei 101 building in Taipei, Taiwan, Saturday, Oct. 15, 2011. The rally was
a part of Saturday's worldwide activities held in support of the Occupy Wall Street protest against corporate power. (Chiang Ying-ying)
thanks to our friends from
www. cryptome.org